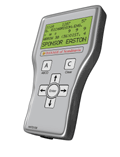 Scoring Systems
The latest innovation from DANAGE is the Instant Scoring System, as ever totally modular to suit every need. In it's basic form it can be used for an individual archer to keep track of their scores, add a few more module's and you can score a Club tournament, a few more module's perhaps a County Event, and you can keep on adding until you have a system to score for a World Championship.
Ideal for smaller club / county / FITA Star competitons, keeps track of the scores and provides the result sheet / leader board very quickly. Uses up to 6 terminals to imput the scores to your PC, so the time taken to provide the results is minimal.

Designed to give fast results for major archery tournaments. Results can be printed, displayed on the field via plasma screen and uploaded to a website. Terminals can be used direct at the target by the archers, or the scores can be imput behind the shooting line.

For use in the final stages of a Head to Head final, incorporates elements of both the Danage Scoring and Timing systems, to achieve almost instant scores.